HOME PAGE
ABOUT US
FIELDS OF EXPERTISE
INDUSTRIES
LAWYERS
CLIENTS
PUBLICATIONS
CONTACT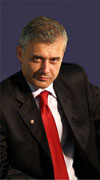 CONSTANTIN PATRAULEA, ATTORNEY AT LAW
- date and place of birth: September 19th 1962, BRASOV

- graduate of the Faculty of Law, University of Bucharest, series 1992
Professional experience:
- 1995 - legal counselor with the NATIONAL COMMISSION OF MOBILE ASSETS (CNVM)

- 1996 - manager, CNVM's legal department

- 1997-2006 - legal counselor for the "ELVILA" group of companies

- February 2nd, 2007 establishment, by the Bucharest Bar's Decision no. 78/2 of January 9th, 2007m of the "CONSTANTIN PATRAULEA" Law Office
Normative documents drawing-up experience:
- Drawing-up, independently or collectively, of CNVM's first normative documentation, approved by the Commission and published in Romania's Monitorul Oficial between 1995 and 1996, regulating the capital market (mobile assets societies, stock exchanges, etc.), such as: The Ethical and Conduct Code for CNVM Members and Personnel, instructions on regular and continuous information of investors, Instructions on direct transactions.

- Expert advice on regulations and instructions adopted by CNVM between 1995 and 1996.

- Drawing-up of projects regarding other regulations, such as the amendments of Law 31/1990 on commercial companies.


Representation in the court of law
- Representation in high-difficulty, high-profile legal disputes involving the "ELVILA" group, between 1997and 2006.

- Representation of various clients in commercial disputes.
Legal practice innovations
Registers in 1999, with the Bucharest Registry of Commerce, the first joint-stock company with participation in kind, respectively in usufruct on the commercial fund of another company, a Romanian premiere.
CONTACT INFO
CONSTANTIN PATRAULEA LAW OFFICE
Constantin Patraulea, Attorney at Law
| | |
| --- | --- |
| Phone: | +4 (0)21 312.88.93 |
| Fax: | +4 (0)21 312.88.94 |
| Mobile: | +4 (0)723.282.129 |
e-mail: office@costinpatraulea.ro